| Symalit PVDF | |
| --- | --- |
| Trade Names | PVDF, Symalit, PVDF 1000, Fluoropolymer |
| Available | Sheets, Rods |
| Colours | Natural, White |
| Similar Plastics | Fluorosint, Techtron, Ketron Peek |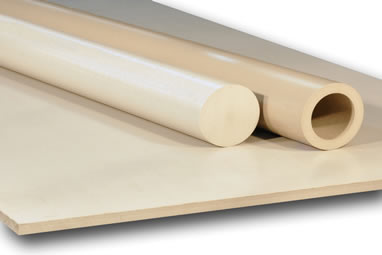 Symalit PVDF Fluoropolymer: PVDF Sheet & PVDF Rod
Symalit PVDF 1000, member of the fluoropolymer family, is unreinforced yet combines good mechanical, thermal and electrical properties with excellent resistance to chemicals.
Symalit PVDF 1000 is a versatile engineering plastic material. Most common industries using Symalit PVDF 1000 are chemical (including petrochemical), pharmaceutical, nuclear, food, paper and metallurgical.
PVDF is a material that has several useful properties such as UV resistance, safe for food contact and has low flammability. Symalit PVDF Fluoropolymer is available in both sheets and rods.
PVDF Characteristics
High service temperature of 150°C in air
Excellent chemical and hydrolysis resistance
High toughness maintained at low temperatures
Physiologically inert
Food grade
Good electrical insulating properties
Outstanding UV and weather resistance
Low flammability
Higher mechanical strength, creep resistance and stiffness compared to other fluoropolymers
Increased resistance against high energy radiation compared to other fluoropolymers
Good sliding properties, wear resistance and dimensional stability
We carry an extensive range of stock to accommodate the diverse market for semi-finished plastic materials, offering custom sizes on all general plastics. Our professional cutting service will ensure quality finishes and rapid turnaround at all times.
With over 20 years of expertise in the fabrication sector, our commitment to service & quality, along with unrivalled product knowledge enables us to guide you in all aspects of plastic material selection, from component design through to production.
Our plastic design team are capable of creating a range of specialist bespoke products, from initial prototypes and one offs to full production runs. The capabilities and capacity available allows us to offer an extensive specialist service.