| Fluorosint | |
| --- | --- |
| Trade Names | Fluorosint 207, Fluorosint 500 |
| Available | Sheets, Rods, Tubes |
| Colours | Ivory, White |
| Similar Plastics | PVDF, Ketron Peek, Torlon PAI |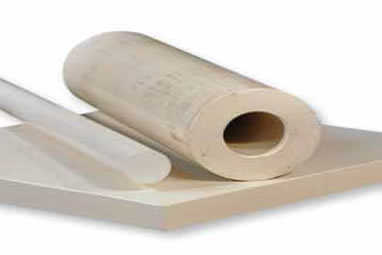 Fluorosint: Sheets, Rods & Tubes
Fluorosint is chemically linked to PTFE but contains unique properties as a result of a proprietary process in which synthetically manufactured mica is added. This bonding results into a load carrying capability and thermal expansion rate not normally attainable in reinforced PTFE.
We offer two different formulations of Fluorosint -
Fluorosint 207
Fluorosint 207 opens numerous application possibilities in food, pharmaceutical and medical industries due to the composition of the raw materials used for the production of Fluorosint 207.
Fluorosint 207 meets the requirements of the directives of the European Union and the American FDA regulations concerning plastic materials intended to come into contact with foodstuffs.
Fluorosint 500
Fluorosint 500 is non-abrasive to most mating materials and has nine times greater resistance to deformation under load than unfilled PTFE. Fluorosint 500 eliminates fit and clearance problems with its coefficient of linear thermal expansion properties, approaching the expansion rate of aluminium and is 1/5 that of virgin PTFE.
Fluorosint Characteristics
Very high max. allowable service temperature in air (250 C continuously)
Excellent chemical and hydrolysis resistance
Good wear resistance due to low coefficient of friction
Very good dimensional stability
Physiologically inert (only applies to Fluorosint 207)
Good electrical insulating properties
Outstanding UV and weather resistance
Low flammability
Fluorosint Technical Notes
Due to its unique PTFE matrix, Fluorosint's physical strength characteristics are not as high as other advanced engineering plastics profiled here such as Ketron PEEK or Duratron PAI (formerly Torlon PAI). This compliance/ductility makes it ideal for seats and seals.
We carry an extensive range of stock to accommodate the diverse market for semi-finished plastic materials, offering custom sizes on all general plastics. Our professional cutting service will ensure quality finishes and rapid turnaround at all times.
With over 20 years of expertise in the fabrication sector, our commitment to service & quality, along with unrivalled product knowledge enables us to guide you in all aspects of plastic material selection, from component design through to production.
Our plastic design team are capable of creating a range of specialist bespoke products, from initial prototypes and one offs to full production runs. The capabilities and capacity available allows us to offer an extensive specialist service.