| Ketron Peek | |
| --- | --- |
| Trade Names | Ketron Peek, Peek, Ketron |
| Available | Sheets, Rods, Tubes |
| Colours | Natural, Black |
| Similar Plastics | PVDF, Duratron PAI |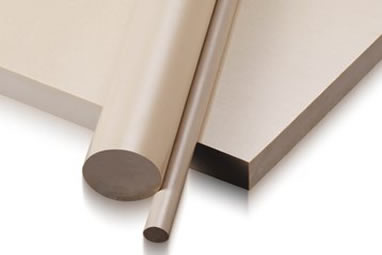 Ketron Peek: Peek Sheet, Peek Rod & Peek Tube
The Ketron PEEK family of materials is based on the polyetheretherketone resin.
Ketron Peek is the most popular advanced engineering plastic material because it exhibits a unique combination of high mechanical properties, temperature resistance and excellent chemical resistance.
Ketron Peek is available in various grades including PEEK-HPV (bearing grade), PEEK-GF30 (glass fibre reinforced), PEEK-CA30 (Carbon fibre reinforced) and PEEK-TX (internally lubricated). Each grade has been specifically formulated to perform in the toughest of environments.
Ketron PEEK-1000 (PEEK) natural (brownish grey) / black
Ketron PEEK-1000 is produced from virgin polyetheretherketone resin, meaning it contains no additives, offering the highest toughness and impact strength of all PEEK grades. The raw materials used for the production of the natural Ketron Peek 1000 complies with the directives of the European Union and the American FDA regulations concerning plastic materials intended to come into contact with foodstuffs. These features, added to its excellent sterilisability by means of steam, dry heat, ethylene oxide and gamma irradiation, make this grade very popular in medical, pharmaceutical and food processing industries.
Ketron PEEK-HPV (PEEK + CF + PTFE + graphite) black
The addition of carbon fibres, PTFE and graphite to virgin PEEK results in a "Bearing Grade". Its excellent tribological properties (low friction, long wear and high Pressure-Velocity capabilities) make this grade especially suited for bearing and wear applications.
Ketron PEEK-GF30 (PEEK-GF30) natural (brownish grey)
This 30% glass fibre reinforced grade offers higher stiffness and creep resistance than Ketron PEEK 1000 and has a much better dimensional stability. Ketron PEEK-GF30 is very appropriate for structural parts carrying high static loads for long periods of time at elevated temperatures. Its suitability for sliding parts, however, is to be carefully examined since the glass fibres tend to abrade the mating surface.
Ketron PEEK-CA30 (PEEK-CF30) black
This 30% carbon fibre reinforced grade combines even higher stiffness, mechanical strength and creep resistance than Ketron PEEK-GF30 with an optimum wear resistance. Moreover, the carbon fibres provide 3.5 times higher thermal conductivity than virgin PEEK, dissipating heat from the bearing surface faster.
Ketron PEEK - TX (PEEK + solid lubricant) blue
This new member of the Ketron PEEK family has been developed especially for the food industry. Like Ketron PEEK-1000, this new internally lubricated material has a food contact compliant composition, but offers far superior wear and frictional performance, making it especially suitable for a wide variety of bearing and wear applications in the 100 to 200°C service temperature range.
What effects to glass and carbon fibre additives have on plastics?
The initial aim is to increase values for strength and rigidity, especially at high temperatures. The plastic becomes harder and has lower elongation, i.e. it is less elastic and breaks when strained. Improved dimensional stability and tighter tolerances can be achieved. The coefficient of thermal expansion is significantly lower. In some cases there are similarities with aluminium or steel. During machining operations the fibre additives cause increased tool wear.
Ketron Peek Characteristics
Very high maximum allowable service temperature in air (250°C continuously, up to 310°C for short periods)
High mechanical strength, stiffness and creep resistance, also at elevated temperatures
Excellent chemical and hydrolysis resistance
Inherent low flammability and very low levels of smoke evolution during combustion
Very good dimensional stability
Excellent wear and frictional behaviour (particularly Ketron PEEK-HPV and PEEK-CA30)
Excellent resistance against high energy radiation (gamma & X-rays)
Good electrical insulating and dielectric properties (except for Ketron PEEK-HPV and PEEK-CA30)
Ketron Peek Technical Notes
From 150°C onwards (above the glass transition temperature), the mechanical properties of all Ketron Peek grades drops off significantly and the coefficient of linear thermal expansion increases considerably. Consequently, a material like Torlon* PAI would be better suited for close tolerance parts operating under high loads at temperatures over 150°C.
Like most reinforced materials, Ketron Peek-HPV, Ketron Peek GF30, Ketron Peek CA30 and Ketron Peek TX exhibits a moderate toughness and impact strength. Therefore, all "internal" corners of parts made from these materials should be radiused (R 1mm) and edges chamfered to maximise part toughness.
We carry an extensive range of stock to accommodate the diverse market for semi-finished plastic materials, offering custom sizes on all general plastics. Our professional cutting service will ensure quality finishes and rapid turnaround at all times.
With over 20 years of expertise in the fabrication sector, our commitment to service & quality, along with unrivalled product knowledge enables us to guide you in all aspects of plastic material selection, from component design through to production.
Our plastic design team are capable of creating a range of specialist bespoke products, from initial prototypes and one offs to full production runs. The capabilities and capacity available allows us to offer an extensive specialist service.