| | |
| --- | --- |
| Trade Names | Ketron Peek |
| Available | Sheets, Rods, Tubes |
| Colours | Natural, Black |
| Similar Plastics | PVDF, Duratron PAI |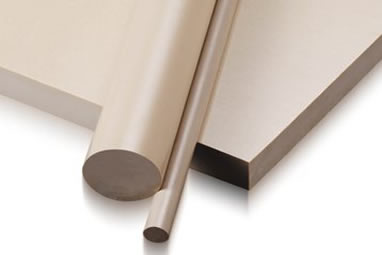 Ketron Peek: Sheets, Rods & Tubes
The Ketron PEEK family of materials is based on the polyetheretherketone resin.
Ketron Peek is a semi-crystalline advanced material that exhibits a unique combination of high mechanical properties, temperature resistance and excellent chemical resistance making Ketron PEEK the most popular advanced plastics material.
Ketron Peek is available in various grades including PEEK-HPV (bearing grade), PEEK-GF30 (glass fibre reinforced), PEEK-CA30 (Carbon fibre reinforced) and PEEK-TX (internally lubricated).
The initial aim is to increase values for strength and rigidity, especially at high temperatures. The plastic becomes harder and has lower elongation, i.e. it is less elastic and breaks when strained. Improved dimensional stability and tighter tolerances can be achieved. The coefficient of thermal expansion is significantly lower. In some cases there are similarities with aluminium or steel. During machining operations the fibre additives cause increased tool wear.