Conservatories - Plastic Roofing
Conservatory Roof features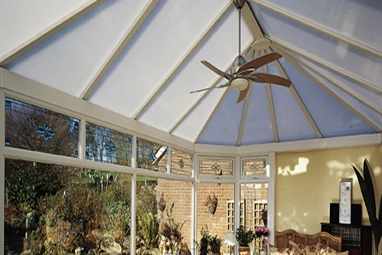 Structural Strength
Resists UV rays
Does not turn yellow
Weatherproof
The conservatory roof is one of the most important parts of your conservatory. Choose the wrong material and your conservatory could become a place you don't want to be. Cheap conservatory roofs, made from inferior materials will not resist UV rays and will be damaged by the sun and weather conditions, permanently damaging the conservatory roof.
Adding a conservatory to your home is a popular decision. A well built conservatory made with UV grade Perspex and a polycarbonate multiwall conservatory roof will add value to your home. A conservatory will also add a space to your home that you can enjoy the sun, without worrying about other weather conditions.
Conservatories are often associated with the sun, however many forget that conservatories are outside in all weather conditions all year round. This means your conservatory roof needs to withstand rain, sleet, snow, high force winds and when the sun is out UV radiation. Polycarbonate multiwall and twinwall is the ideal material as it is strong, UV resistant (will not turn yellow in the sun) and weatherproof.
We stock two types of conservatory roofing plastic sheets, twinwall and multiwall polycarbonate. Each has its benefits and our friendly customer service team can help you decide which suits your needs best. Both types of conservatory roofing sheet are available in bronze, clear and opal colours. We will cut the conservatory roof to your custom size so all you need to do is install the roof. As well as the conservatory roof material itself we also stock other building materials used in installing the conservatory roof. These include glazing bars, fixing buttons, end caps and aluminium F profiles.
Please Note:
Bay Plastics are a materials supplier. We do not install conservatories or conservatory roofs.
Build a Conservatory Roof
We supply the materials for you to build a conservatory roof:
We carry an extensive range of stock to accommodate the diverse market for semi-finished plastic materials, offering custom sizes on all general plastics. Our professional cutting service will ensure quality finishes and rapid turnaround at all times.
With over 20 years of expertise in the fabrication sector, our commitment to service & quality, along with unrivalled product knowledge enables us to guide you in all aspects of plastic material selection, from component design through to production.
Our plastic design team are capable of creating a range of specialist bespoke products, from initial prototypes and one offs to full production runs. The capabilities and capacity available allows us to offer an extensive specialist service.